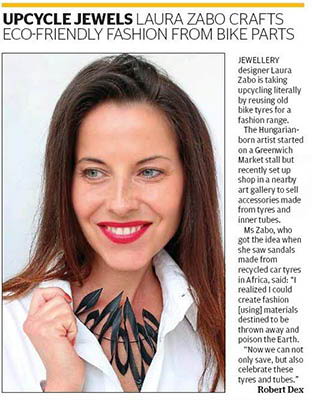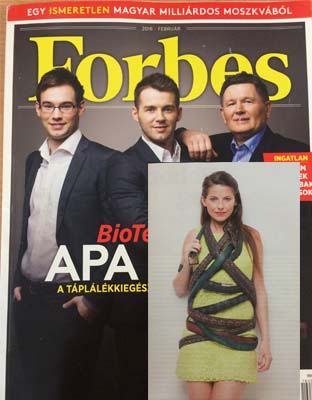 Fantastic Zabo article in the February 2016 edition of Forbes Magazine Hungary. Thank you Forbes!


Upcycling: saving the planet one bicycle tyre at a time
"Can sustainable fashion really be more than recycled materials and so-called organic canvas totes?"
FASHION | ZABO + THE TYRE FACTOry
"I have always loved to learn new things and I love DIY, making and repairing things by myself. While I was exploring Tanzania I came across some brightly painted slippers made out of car tires..."


Laura Zabo discusses veganism and environmentally friendly fashion
A London-based designer is creating eco-friendly fashion – using materials destined for landfill.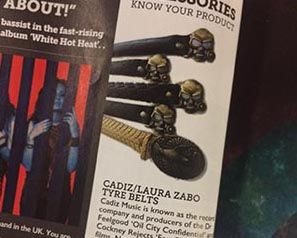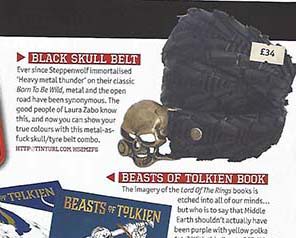 Laura ZABO – Upcycled Belts and Vegan Accessories Made From Reused Bicycle Tyres
"The abundance of trash is a tremendous problem for our planet, and we need make more room for ideas that help us get rid of it or those that transform the excess – instead of producing more and more."
LAURA ZABO KOJAK BICYCLE TYRE BELT
"The Laura Zabo Kojak tyre belt is, surprise, surprise made from Schwalbe's popular mid section slick. There are lots of other patterns/designs to choose from, including Schwalbe's iconic, heavy duty mile-munching Marathon Plus."


9 TRULY ECO FRIENDLY VEGAN LEATHERS
There's something a bit leathery about the feeling and look of upcyled inner tubes, as several designers, including Laura Zabo, have noticed. With a bit of creativity, this material can be used to replace leather in everything from belts and shoes to guitar straps.
In Pics: Coolest Eco Fashion Ideas Of 2016
"Eco fashion is the in thing. The idea of sustainable design is carried forward in these fashion accessories which have been made from natural materials or have been upcycled. 


."...This is feel good fashion at its best and makes my heart sing! More please…we need SO much more and passionate creative entrepreneurs like Laura that care about our planet and want to make a difference deserve to be a success!..."
"The combination of creating a beautiful product, the sandal, while providing a solution to an environmental issue, the tires, inspired Laura to start Laura Zabo where she offers a large range of vegan accessories handmade in London from repurposed tires. "